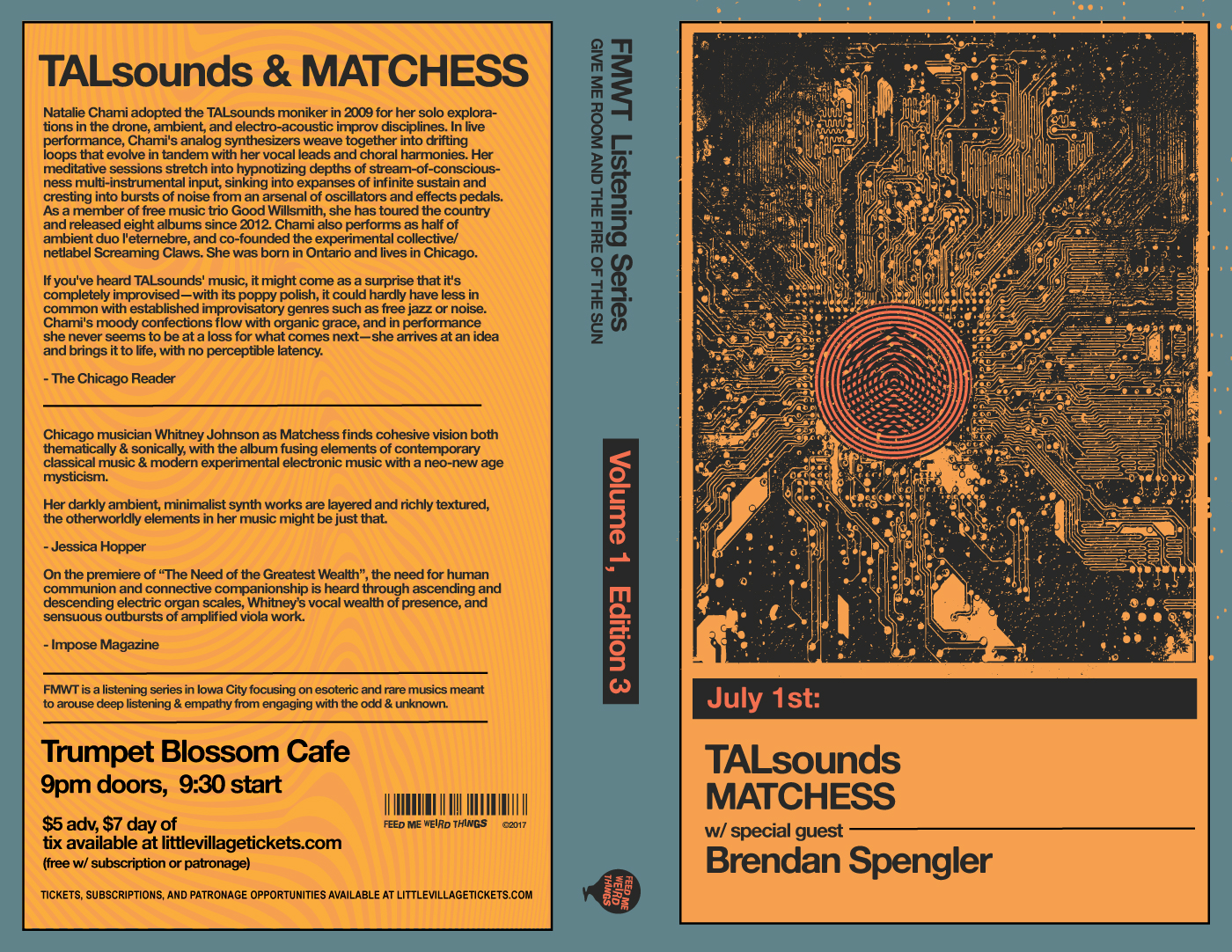 Feed Me Weird Things Presents:
TALsounds, MATCHESS


with special guest: Brendan Spengler
Sat, Jul 1 from 9pm - 11pm
Patron of the Weird membership
more info
The "Patronage of the Weird" membership is designed specifically for those of you who would like to ensure that strange music will continue to permeate the air of Iowa City. Maybe you remember a show at the Hall Mall, Picador, or W/L Wherehouse that challenged or changed your notion of what music was and what it could be. Perhaps you've been a fan of the strange music presented during the Mission Creek and Witching Hour festivals, and want to encourage performances like these more often. Maybe you can't make it to the performances, but want to ensure that new and odd music is available and affordable to others. This is the most cost-effective way to legitimately call yourself not just a patron of the arts, but a patron of the weird. As a patron, you'll have a subscription for the season. You'll be on the guestlist for each and every show, and you'll be named in my personal (awkward, painful) introduction to each performance (it'll feel like you're up there with me, giving me the strength to overcome my debilitating stage fright). Additionally, you'll be expressly thanked on our lovely playbills and posters. Speaking of which—do you like the amazing design work that tinylittlehammers.com have put into our logo and posters? Well, I'll make sure you get one of each. Other than that, I don't have much in the way of trinkets to offer (but I'll figure something out), because I'd rather use your money to bring the newest voices in modern, avant garde and out-there national and international music to our community here in Iowa City. Through the 15+ years I've been booking and promoting in Iowa City, I've developed lasting relationships with artists, managers, and agents, that now afford me opportunities to book acts that even larger cities don't get, and at a price lower than most major markets pay. This means we can bring ticket prices down for those who may not have the means to take chances on new art. And, if you decide to go the patronage route and have ideas about how we can improve our reach and scope at Feed Me Weird Things, or you'd like to hear ideas I've got for the direction, let's get in touch.
Saturday July 1st
TALsounds
MATCHESS
w/ special guest Brendan Spengler
Volume 1, Edition 3

Natalie Chami adopted the TALsounds moniker in 2009 for her solo explorations in the drone, ambient, and electro-acoustic improv disciplines. In live performance, Chami's analog synthesizers weave together into drifting loops that evolve in tandem with her vocal leads and choral harmonies. Her meditative sessions stretch into hypnotizing depths of stream-of-consciousness multi-instrumental input, sinking into expanses of infinite sustain and cresting into bursts of noise from an arsenal of oscillators and effects pedals. As a member of free music trio Good Willsmith, she has toured the country and released eight albums since 2012. Chami also performs as half of ambient duo l'eternebre, and co-founded the experimental collective/netlabel Screaming Claws. She was born in Ontario and lives in Chicago.
If you've heard TALsounds' music, it might come as a surprise that it's completely improvised—with its poppy polish, it could hardly have less in common with established improvisatory genres such as free jazz or noise. Chami's moody confections flow with organic grace, and in performance she never seems to be at a loss for what comes next—she arrives at an idea and brings it to life, with no perceptible latency.
- The Chicago Reader

Chicago musician Whitney Johnson as Matchess finds cohesive vision both thematically & sonically, with the album fusing elements of contemporary classical music & modern experimental electronic music with a neo-new age mysticism.
Her darkly ambient, minimalist synth works are layered and richly textured, the otherworldly elements in her music might be just that.
- Jessica Hopper
On the premiere of "The Need of the Greatest Wealth", the need for human communion and connective companionship is heard through ascending and descending electric organ scales, Whitney's vocal wealth of presence, and sensuous outbursts of amplified viola work.
- Impose Magazine

Vol.1, 3rd edition:
TALSOUNDS and MATCHESS
w/ special guest: BRENDAN SPENGLER performing new solo works
Saturday, July 1st 9pm - 11:30pm
Trumpet Blossom Cafe
$5 adv $7 Day of, free for season passholders and patrons