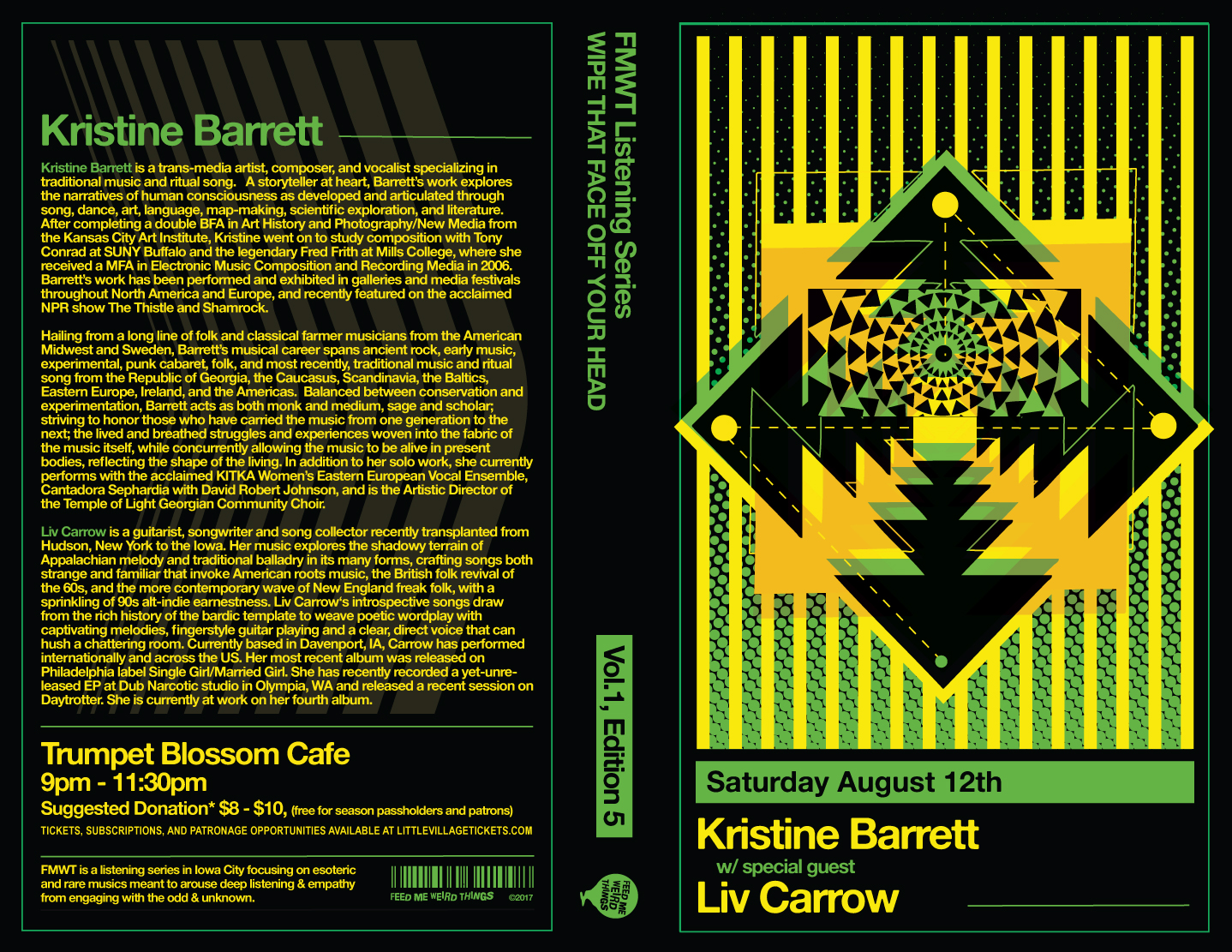 Feed Me Weird Things Presents: Kristine Barrett w/ special guest Liv Carrow
Kristine Barrett is a trans-media artist, composer, and vocalist specializing in traditional music and ritual song. A storyteller at heart, Barrett's work explores the narratives of human consciousness as developed and articulated through song, dance, art, language, map-making, scientific exploration, and literature. After completing a double BFA in Art History and Photography/New Media from the Kansas City Art Institute, Kristine went on to study composition with Tony Conrad at SUNY Buffalo and the legendary Fred Frith at Mills College, where she received a MFA in Electronic Music Composition and Recording Media in 2006. Barrett's work has been performed and exhibited in galleries and media festivals throughout North America and Europe, and recently featured on the acclaimed NPR show The Thistle and Shamrock.
Hailing from a long line of folk and classical farmer musicians from the American Midwest and Sweden, Barrett's musical career spans ancient rock, early music, experimental, punk cabaret, folk, and most recently, traditional music and ritual song from the Republic of Georgia, the Caucasus, Scandinavia, the Baltics, Eastern Europe, Ireland, and the Americas. Balanced between conservation and experimentation, Barrett acts as both monk and medium, sage and scholar; striving to honor those who have carried the music from one generation to the next; the lived and breathed struggles and experiences woven into the fabric of the music itself, while concurrently allowing the music to be alive in present bodies, reflecting the shape of the living. In addition to her solo work, she currently performs with the acclaimed KITKA Women's Eastern European Vocal Ensemble, Cantadora Sephardia with David Robert Johnson, and is the Artistic Director of the Temple of Light Georgian Community Choir.
Liv Carrow is a guitarist, songwriter and song collector recently transplanted from Hudson, New York to the Iowa. Her music explores the shadowy terrain of Appalachian melody and traditional balladry in its many forms, crafting songs both strange and familiar that invoke American roots music, the British folk revival of the 60s, and the more contemporary wave of New England freak folk, with a sprinkling of 90s alt-indie earnestness. Liv Carrow's introspective songs draw from the rich history of the bardic template to weave poetic wordplay with captivating melodies, fingerstyle guitar playing and a clear, direct voice that can hush a chattering room. Currently based in Davenport, IA, Carrow has performed internationally and across the US. Her most recent album was released on Philadelphia label Single Girl/Married Girl. She has recently recorded a yet-unreleased EP at Dub Narcotic studio in Olympia, WA and released a recent session on Daytrotter. She is currently at work on her fourth album.
Vol.1, Edition 5
Kristine Barrett
Liv Carrow
Saturday, August 12th 9pm - 11:30pm
Trumpet Blossom Cafe
Suggested Donation $8 advance $10 day of show, free for season passholders and patrons