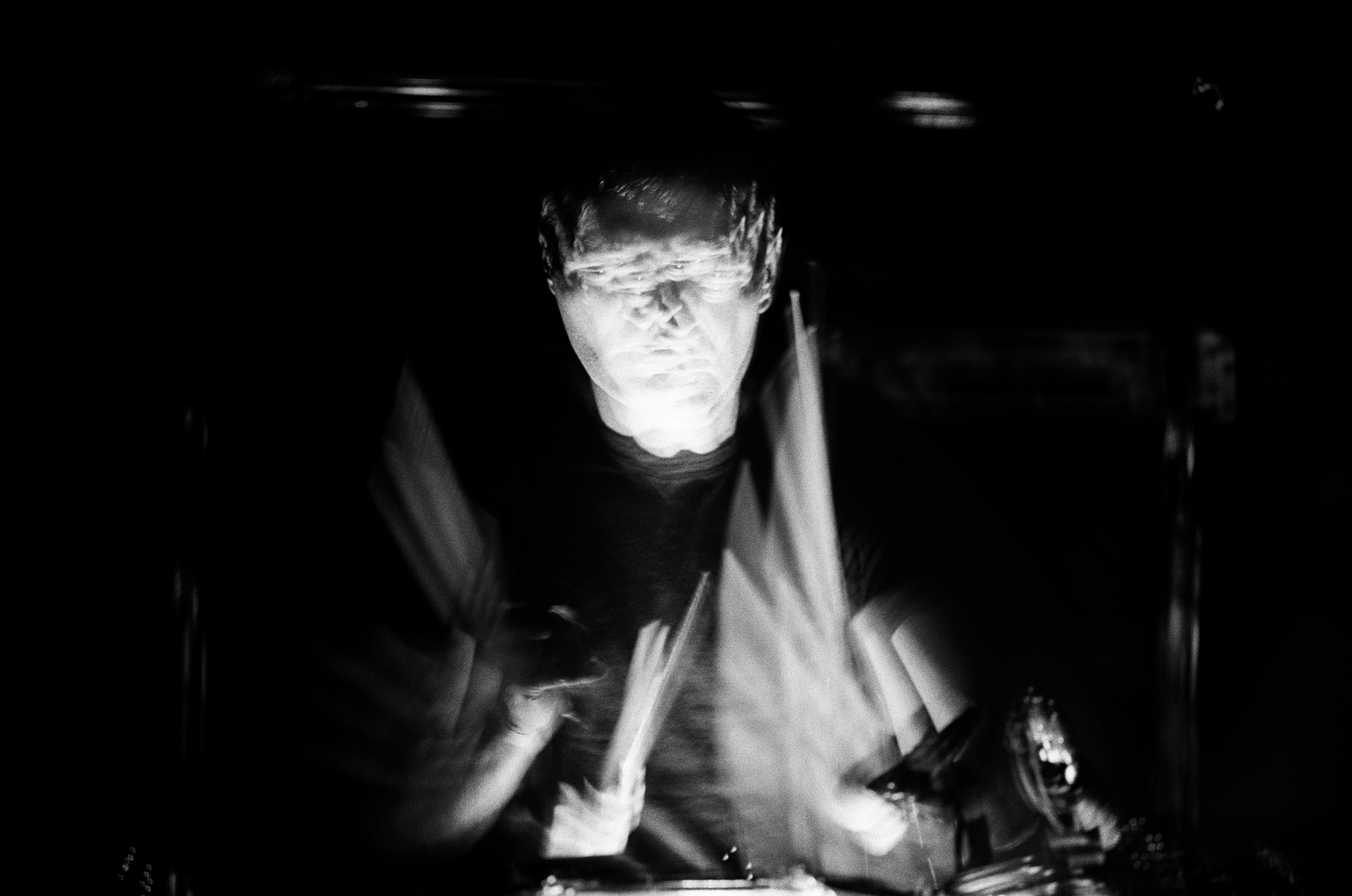 FMWT Vol. 2, Edition #6: Jon Mueller
Jon Mueller has been a drummer and percussionist for over twenty-five years, performing throughout North America, Europe, United Kingdom, and Japan at places such as New Museum (New York), The Arnolfini (Bristol, UK), Musée des Beaux-Arts de Montréal, Issue Project Room, Guggenheim Museum (New York), Alverno Presents, Hopscotch Fest, and SXSW. His recordings have been released by record labels such as Table of the Elements, Type Recordings, Important Records and others. A founding member of the bands Volcano Choir, Collections of Colonies of Bees, and Pele, he has also worked with musicians Rhys Chatham, Jarboe, James Plotkin, Fred Lonberg-Holm, Marcus Schmickler, Asmus Tietchens, and Z'EV, dancers Molly Shanahan, Dawn Springer and Heidi Latsky, and filmmaker Scott Kawczynski, among others. In recent years, he directed the multi-disciplinary project Death Blues.
His latest album dHrAaNwDn (Read Hand Drawn) offers a partial document of a session where Mueller spent 6 hours furiously playing a four piece drum set at the Meeting House at the Shaker Historical Society in Albany, NY. This room played a significant role in the Era of Manifestations, a period of spiritual revival during the Shaker movement. The Shakers built the Meeting House and a variety of other distinct buildings on the surrounding land after they arrived from England in the late 1700s. The Era of Manifestations was defined by "spirit gifts", visions, healings, and trance-like episodes, many of which occurred in the Meeting House.
With dHrAaNwDn, Mueller, who has spent a great deal of his drumming career building a discography and performance reputation around ecstatic repetitive rhythms, brought a nearly impossible energy unheard in his previous work. Here relentless rhythms form a dissolved state between frenetic dance and Zen, driving both energy and contemplation simultaneously. The combination of movement and sound is almost palpable, yet easy to get lost within. From the perspective of the player, it's a spiritual exercise. For the listener, it might not be much different.
Consider that in meditation, repetitive mantras lead toward an ideal state. In Rudolf Steiner's Eurythmy, gestures relating to rhythm can be turned into "visible music." In George Gurdjieff 's movements, cosmic truth is transmitted through different postures. And in Shaker dance, high energy syncopated movements drove participants into trance states. Drumming can operate similarly. It is an active ritual of giving and receiving. Giving, in its intentional form and movement. Receiving, in the sound that returns. It's a focused call and response with the unknown.
http://rhythmplex.com/
Jon will join us for a brief conversation prior to this dynamic performance.
WARNING: THERE WILL BE STROBES USED IN THIS PERFORMANCE