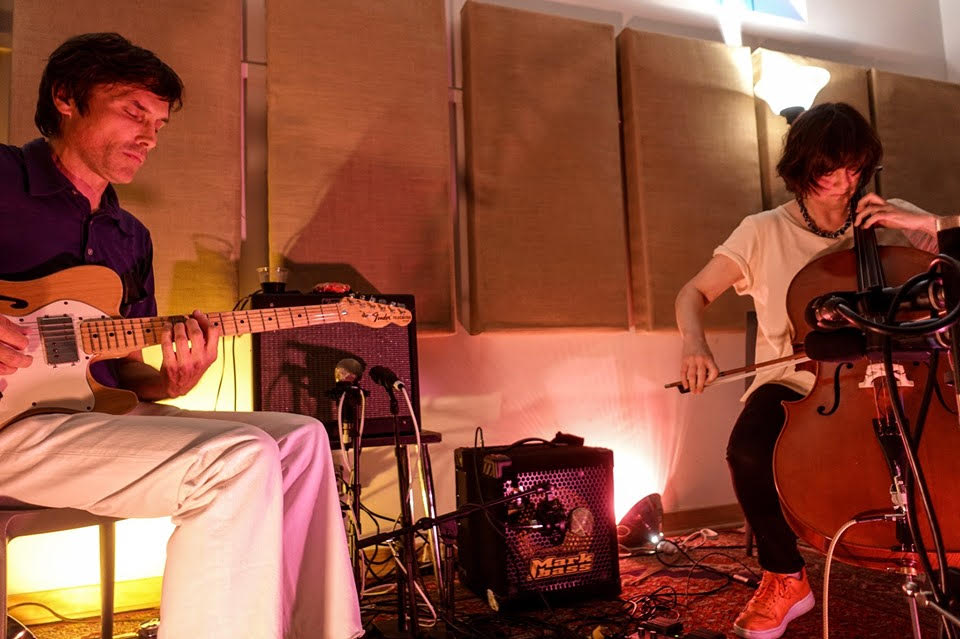 Feed Me Weird Things presents
Bill MacKay & Katinka Kleijn
FMWT / UI Stanley Museum of Art / UI Pentacrest Museums present:
Bill MacKay & Katinka Kleijn
Old Capital Senate Chamber
Saturday, November 9th 2019
Doors 6pm / All Ages / Suggested Donation $10
Join us for a very special edition for Feed Me Weird Things in the stunning museum setting of the Old Capital museum in the upstairs senate chamber over looking the campus lawns in the heart of downtown Iowa City.
Bill MacKay & Katinka Kleijn:
Bill MacKay, a Chicago-based guitarist/composer/writer/ improviser, and Katinka Kleijn, a classical cellist with the Chicago Symphony Orchestra and the International Contemporary Ensemble, team up regularly as an improvised music duo. It is at once an unlikely and perfect pairing as both musicians are known not only for their excellence, but for their curiosity and range. MacKay's recent projects have centered on experimental-folk, avant-garde, free jazz, western blues, and Appalachian styles, while Kleijn's include an ambient-folk album, a prog-rock metal band, and regular performances in the free jazz scene. Together they form a fluid, intuitive, dialogical, improvisational pair.
Katinka Kleijn:
Hailed as "Chicago's first lady of the cello" by Timeout Chicago Magazine, Dutch cellist Katinka Kleijn defies today's traditional definition of a cellist, transitioning comfortably through the styles of classical, experimental, contemporary, improvisatory, folk and progressive rock, as well as across the traditional fields of solo, chamber and orchestral performance.
A member of the Chicago Symphony Orchestra, Kleijn is in frequent demand as a soloist, performing with the Chicago Symphony Orchestra under the baton of Charles Dutoit in Penderecki's Triple Cello Concerto, as well as with the The Hague Philharmonic, the Chicago Sinfonietta, the Illinois Philharmonic, the Symphony Orchestras of Elmhurst, DuPage and Sheboygan, and as a soloist in Mark-Anthony Turnage's Kai on the CSO's MusicNOW Series.
Bill MacKay:
Bill MacKay cut his teeth in various bands and projects spanning genres across the United States, and has created an extensive body of original work, while energizing the folk, avant-garde, and experimental diaspora.
MacKay's blissful harmonic control and just-outside-the-box guitar mastery are one with his compelling songwriting, and his creative voyage and imaginative influences are fully displayed on his most recent solo records for Drag City.
These recordings along with his unmatched live performances reveal a startling range – from the folk of Appalachia, avant-rock, and blues to jazz, raga-esque excursions, and western modes. MacKay's music has received praise in reviews by the Chicago Reader, Mojo, The Ear, Uncut, Downbeat, Paste, Pitchfork and New City among other publications.
Individuals with disabilities are encouraged to attend all University of Iowa-sponsored events. If you are a person with a disability who requires a reasonable accommodation in order to participate in this program, please contact Shereena Honary in advance at .319-335-2010.