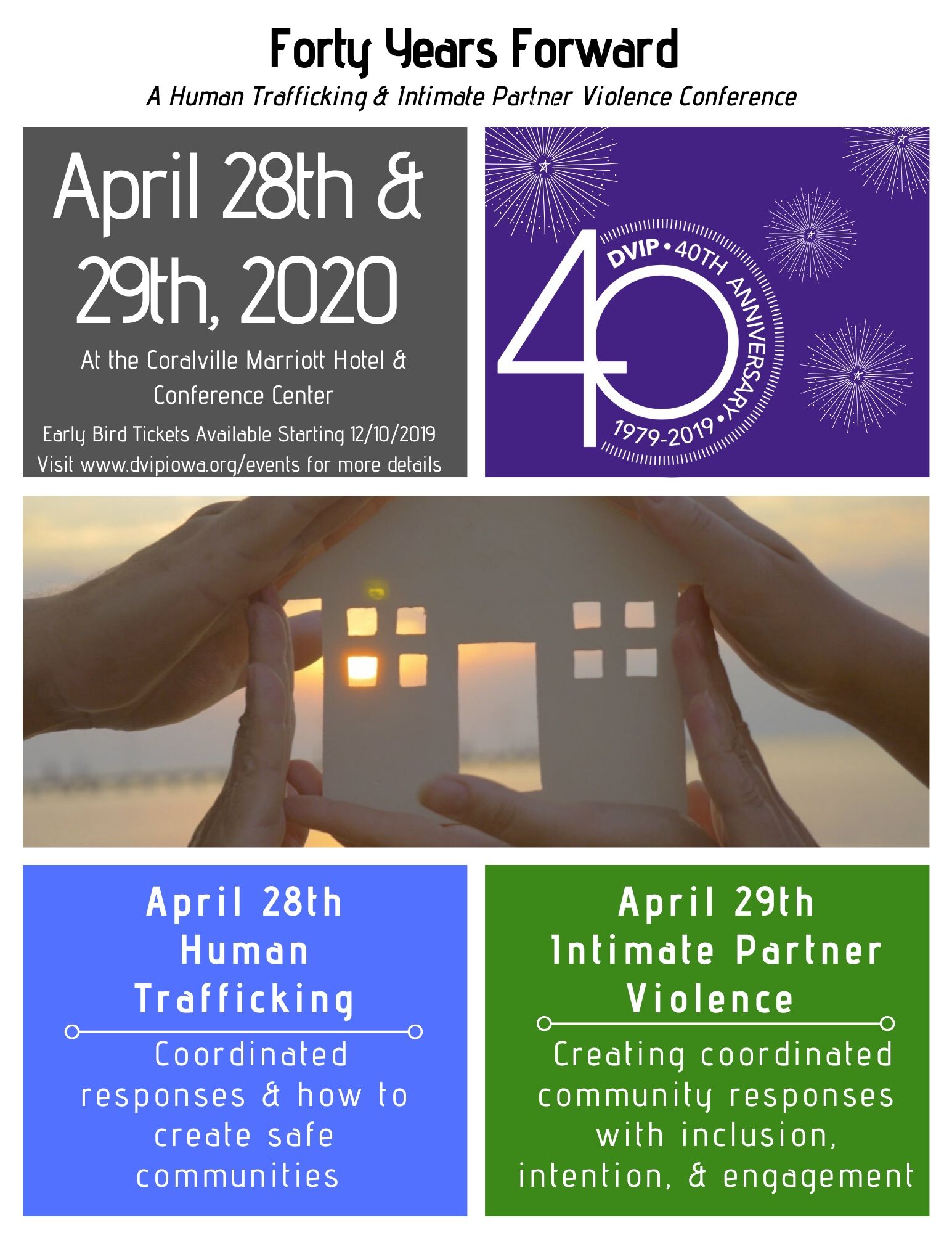 The Domestic Violence Intervention Program Presents
Forty Years Forward


A conference for advocates, community members, & professionals to create safer futures for victim-survivors focusing on intimate partner violence and human trafficking
Tue, Apr 28 at 7:30am - Wed, Apr 29 at 4pm
Early Bird General Admission
Early Bird Student Admission
General Admission Student
40 Years Forward - A Human Trafficking and Intimate Partner Violence Conference for the whole community hosted by the Domestic Violence Intervention Program (DVIP) is a two-day conference held on Tuesday, April 28th and Wednesday, April 29th, 2020 at the Coralville Marriott Hotel and Conference Center.
The first day will open with keynote speaker, Timea Nagy, who will introduce the day's topic from the survivors' perspective: human trafficking. Following the Keynote address conference attendees will break out into a world cafe break out session, allowing attendees to take a deep dive into the specific questions, thoughts, and concerns that Tamia Nagy's opening remarks brought up.
After lunch attendees are invited to attend one of three tracks that will address how human trafficking exists and relates to their specific communities, to intimate partner violence, and to law/criminal systems respectively.
Day Two continues with the 3 breakout sessions that will each explore topics - such as intersectionality, resource building, community engagement, creating response teams - all in relation to intimate partner violence. The second day will close with keynote speaker Mildred Muhammad,
Along with the main conference, we will be hosting a series of optional networking events. Full conference details available at www.dvipiowa.org/conference
Space is limited so register today!
EARLY BIRD RATES AVAILABLE UNTIL JANUARY 31st!