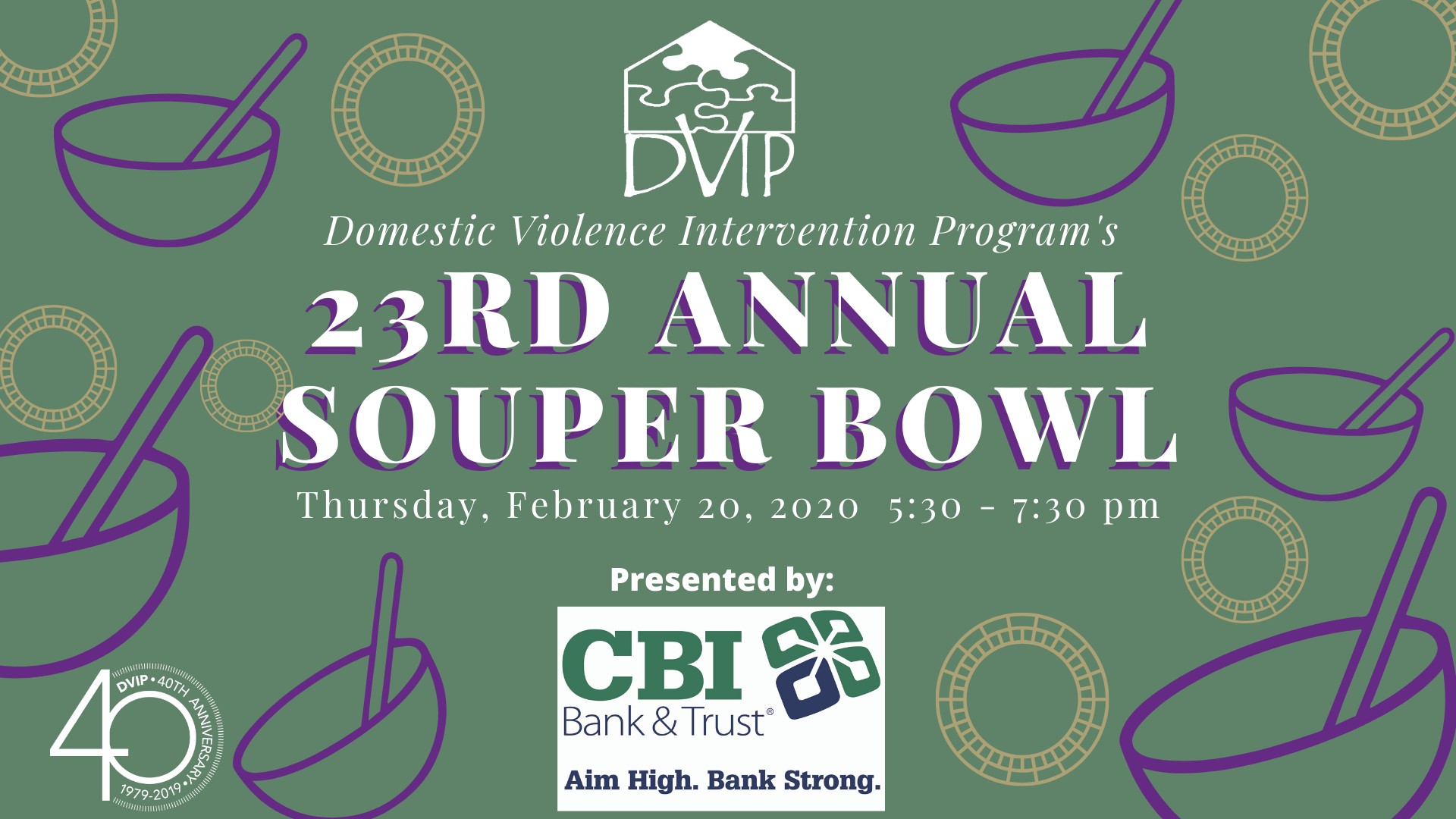 The Domestic Violence Intervention Program's 23rd Annual "Souper Bowl"
Thu, Feb 20 at 5:30pm
Kid-Friendly
Volunteer Opportunities
DVIP invites the community to join them in raising funds for those most vulnerable, victims of intimate partner abuse, human trafficking, stalking and harassment. For 40 years, DVIP advocates have provided much-needed support and resources to victim-survivors throughout eight Southeastern Iowa Counties.
The "Souper Bowl" was created 23 years ago by DVIP's current Executive Director, Kristie Fortmann-Doser, to challenge the myth that more violence occurs against women around the NFL Super bowl. Violence against women happens every day and 1 in 4 women will be affected by intimate partner abuse in their lifetime. Last year, DVIP advocates have assisted over 1900 individuals in the past year by providing them with free and confidential safety planning, medical and legal advocacy, support groups, housing assistance, 24-hour hotline, and other vital resources.

The DVIP "Souper Bowl" is often described as a family reunion as many people come back year after year to eat unlimited delicious soups from over 40 restaurants, listen to live music, and catch up with old friends. A tradition of the event, and why many say it is so special, is that each guest gets to pick out a donated ceramic bowl to take home! The bowl represents community, giving, and remembrance of the victims we serve.
Ending intimate partner violence and supporting victim-survivors takes all of us. Join DVIP and show survivors your support this year on February 20th, 2020!
Frequently Asked Questions:
Is there handicapped/elderly parking? - Yes! We will have designated parking for those in need of easy walking access - just follow the signs!
What about Food Allergies? - Yes! We will have food for most - while all soups are donated by area restaurants they are clearly labeled for common allergens such as dairy, shellfish, vegetarian, vegan, and gluten.
What services are supported by my donation? - Donations from our biggest fundraiser of the year go to supporting DVIP's crisis intervention services to victim-survivors of intimate partner violence in Southeastern Iowa.
Do I need to buy a ticket for my kiddo? - Kids under 12 eat free unless they want to take a bowl home in which case you will need to purchase a student ticket!
My question wasn't answered above what can I do? - Please call 319.930.2030 or email altamp@dvipiowa.org