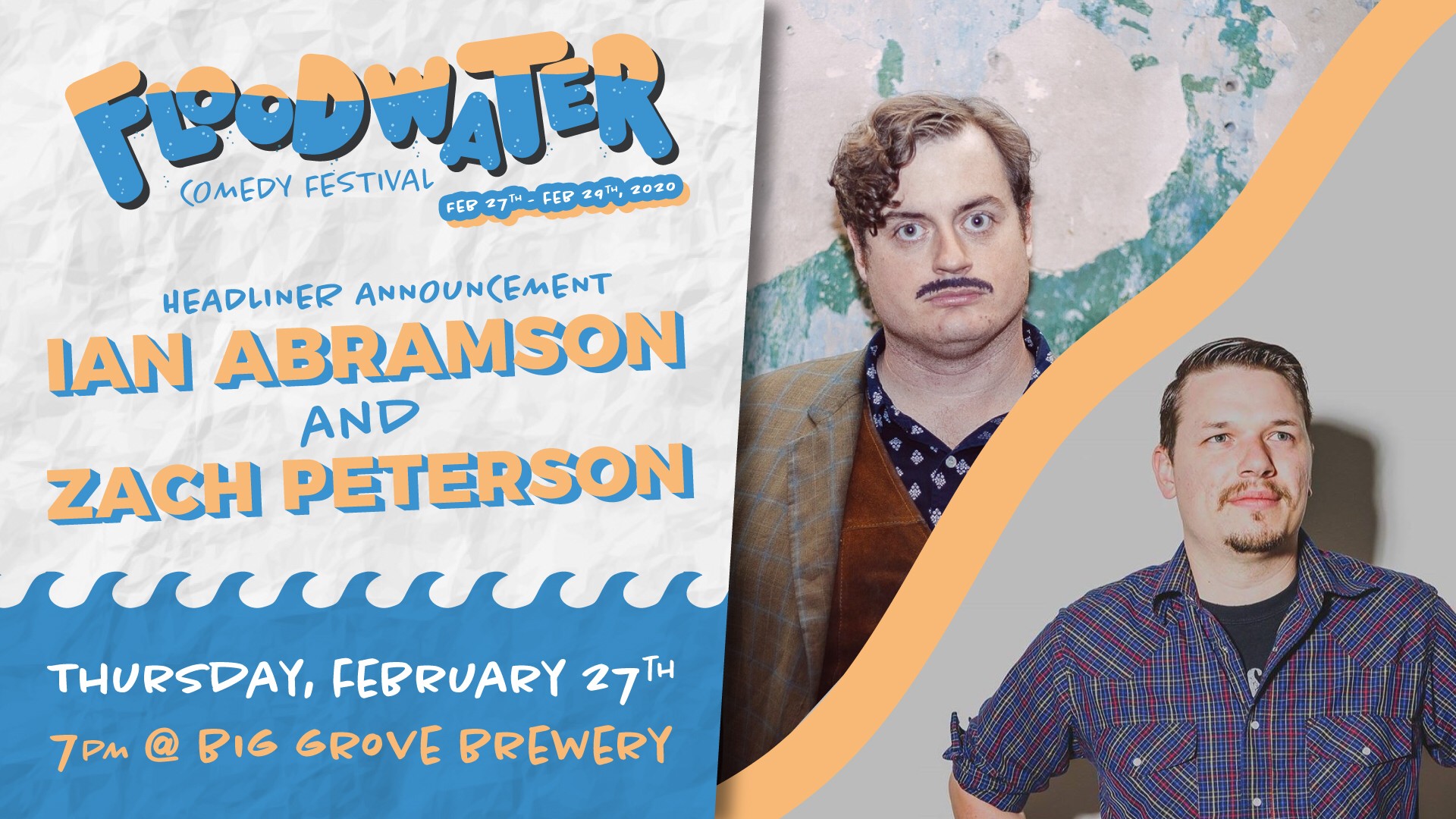 Ian Abramson & Zach Peterson Presented By Floodwater Comedy Festival
Ian Abramson is from Moreno Valley, California, where he learned to walk, read, and drive, but not in that order. His stand-up is a mix of precise wordplay, longer emotionally absurd jokes, and larger conceptual pieces. In 2014 Chicago Magazine named Ian "Best Experimental Comedian" and also listed him in a separate article as one of the "16 Comedians You Should See This Fall." In 2015 Ian was LA Weekly's Best Up-and-Coming Comedian and a New Face for the world renowned Just For Laughs Comedy Festival in Montreal, Canada.

Ian Abramson is a regular contributor to The Onion and also the creator and host of the buzzed-about Comedy Central digital show 7 Minutes in Purgatory where comedians perform to a camera in one room while the audience watches in another room. He was also a creative consultant for Funny or Die's digital series Our Fascinating Planet starring Demetri Martin. Ian has appeared on SeeSo's The Comedy Show Show, Hulu's Coming to the Stage, and performed at Bonnaroo Music and Arts Festival, Pemberton Music Festival in Canada, SXSW and Moontower Comedy Festival in Austin, New York Comedy Festival, San Francisco Sketchfest, Bridgetown Comedy Festival in Portland, The Onion/A.V. Club festival in Chicago, and Funny or Die's Oddball Festival. Recent TV credits include appearances on History Channel's Join or Die and on ABC's The Middle.

Zach Peterson has been described as everything from "An affable oddball" to "if Bruce Springsteen's Nebraska album was a person." This is because Zach writes jokes that have a unique mixture of thoughtfulness, absurdity and darkness, which can be heard on his debut album "Midwestern Jokes for the Americas" that was released in 2018.

When he is not crisscrossing the United States performing at clubs, theaters, and where ever else will have him, Zach makes his home in Chicago, IL where he produces and hosts the Arguments and Grievances Podcast that has been featured at numerous festivals, on Audible.com, named "Best Variety show in Chicago 2014"by Chicago Magazine and called by The Chicago Tribune, "smart, high-stakes tomfoolery disguised in a brilliant, faux-brainy conceit...This show is a riot."

Zach has toured the country with the likes of Mary Mack, Dave Ross and Timmy Williams from The Whitest Kids you know, performing at festival like The Limestone Comedy Festival, The High Plains Comedy Festival, and The Laughing Skull Comedy festival among many more.
Tickets are $7 in advance/$10 at the door