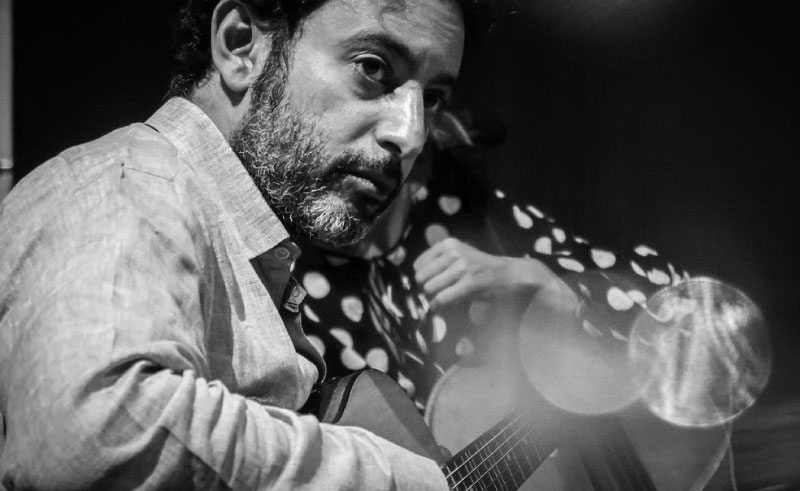 Feed Me Weird Things & Record Collector present
Maurice Louca (Egypt)


with special guest Mystic Cross (Claire Nunez)

Maurice Louca (Eygpt)

Mystic Cross

Friday May 20th 9pm doors

Trumpet Blossom Cafe $15 / $10 students

Limited capacity seated audience

Vaxx & mask mandatory
---
Maurice Louca
Maurice Louca is an Egyptian musician and composer born in Cairo where he lives and works. As well as being the co-founder of the bands The Dwarfs of East Agouza (with Alan Bishop & Sam Shalabi), Karkhana, Lekhfa (with Maryam Saleh & Tamer Abu Ghazaleh), Alif, and Bikya, he lends his sound to numerous projects, composing for dance, theatre, film and contemporary art.
Born in Cairo in 1982, he started on guitar at age 12, and became immersed in the music of the MTV era, as well as such 60s psychedelic mainstays as Pink Floyd, Hendrix, and the Doors. These were pre-Internet years in a country with state-run media, so access was scarce; tapes were dubbed and traded at school, along with bits and pieces of information. As the '90s became the aughts, the reins were loosened on live music, and Louca's tastes eventually expanded into classical and contemporary Arabic music, especially the street-level pop called shaabi, as well as the avant-garde and electronic music. Accordingly, his toolbox grew to include the synthesizer, laptop, sampler and drum machine.
Inspired by many influences, from psychedelic to Egyptian shaabi, Louca's second album Salute the Parrot, released on Nawa Recordings in November 2014, shattered the confines of musical and cultural labelling and was dubbed by many as a game-changer for the region's bustling independent music scene.
Fast forward to 2019's Elephantine, Maurice Louca's third and most ambitious album to date. With Elephantine Louca departs once again to a new context, this time composing for a thirteen-piece band of brilliant musicians. He guides a 12-piece ensemble through a 38-minute masterwork that might best be described as panoramic. Elements of free improvisation, Sun Ra's cosmic jazz, gorgeous Arabic melody, trance-like African and Yemeni music and minimalism meet in his wholly unique compositional vision. Louca also makes vital contributions on guitar and piano, and inspires stirring performances from a global lineup.
Certain components of Elephantine, especially Louca's use of avant-jazz-style improv, a developing fascination, required the composer to go outside Egypt's rich talent pool and tap players from Italy, Iraq, Sweden, Turkey and Denmark. The sessions, however, held in 2017 in Stockholm, made these efforts worthwhile. "There was a blessed thing about the process of making this record," he says. "The dynamic between us musically but also as people … it was a very exciting time."
---
Mystic Cross
Mystic Cross is the guitarist, vocalist, and keyboardist Claire Nunez of the extreme metal band DRYAD, as well as a multifaceted songwriter and classically trained pianist/flutist. Her fantastical synthesizer compositions are brief snapshots of life through a distorted lens – moody, ruminating soundtracks to accompany her own surrealistic daydreams and immersive nightmares.