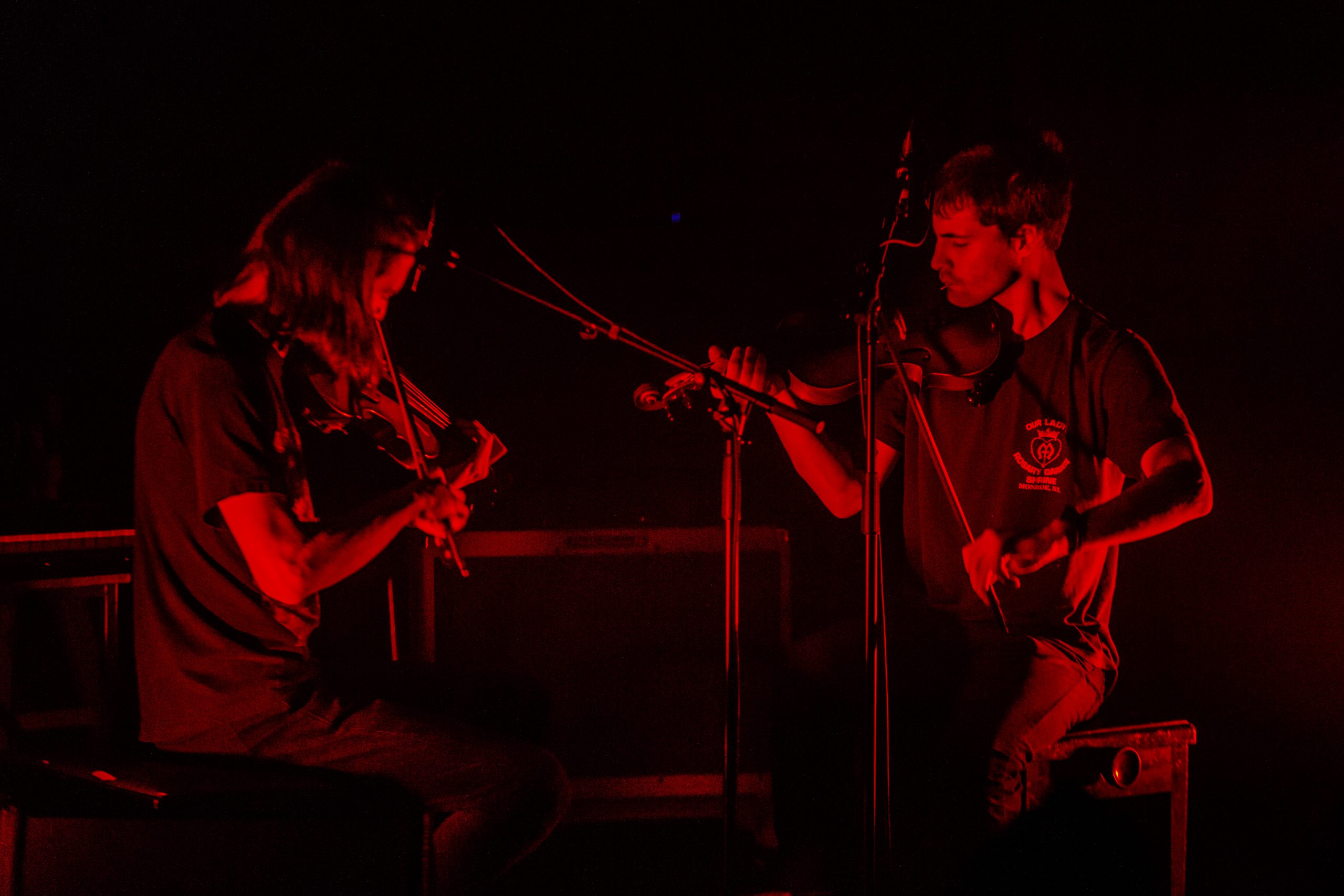 Feed Me Weird Things & Record Collector present
Tongue Depressor + Austin Lark


with special guests Christine Burke and Death Bag

Tongue Depressor (Zach Rowden, Henry Birdsey, Austin Larkin)

Christine Burke

Death Bag

Friday July 1st 9pm doors

Trumpet Blossom Cafe $10 / $5 students

Limited capacity seated audience

Vaxx & mask mandatory
---
Tongue Depressor
Tongue Depressor (New Haven, CT) is the duo of Henry Birdsey (fiddle, lap steel) and Zach Rowden (fiddle, upright bass). They write, improvise, and perform music that draws from the fields of drone, harsh noise, and church music, often using microtonal tunings.
Tongue Depressor is the duo of Henry Birdsey & Zach Rowden (joined this tour by Austin Larkin) from New Haven CT. They have mostly been releasing limited edition, self released cassettes since 2017 and this is their debut LP. Their music represents the next generation of noise, DIY, modern composition, drone & free improvisation (and even some nods to Early Music). Henry is a composer, multi-instrumentalist and sound engineer originally from Vermont. Zach is a bassist, composer and improvisor from New Haven. Austin Larkin is a composer working within the spectrum of performance and environment.
The music works on a bed of woozy, droning, plucking tape loops of pedal / lap steel and introduces their approach to just intonation and alternate tunings, a more lo-fi, dissonant version of Oren Ambarchi's early pointillistic guitar work. Sounds move in a more horizontal drone space with microtonal pipe organ and long tone bowed bass layers. Dissonance and beating patterns emerge among the alternate tunings again. [Tongue Depressor] offer up an immersive listening space full of details that reward deep listening. This isn't placid, background ambient music, its an enveloping & mildly dissonant world to explore that demands your attention not unlike the music of Alvin Lucier, Tony Conrad, Arnold Dreyblatt, La Monte Young, Phill Niblock, Charlemagne Palestine and more. Step inside and recalibrate your ears!
Christine Burke
Christine is a composer from Iowa City, IA, whose music has been performed by Alkali Collective, Bob Spring, the Walden School Creative Musicians, line upon line, Will Yager, Wolftone, Dog Star Orchestra, Density512, ETHEL, Southland Ensemble, Koehne Quartet at Wien Modern, a.pe.ri.od.ic, Alarm Will Sound at the Mizzou International Compsers Festival, the Chicago Civic Orchestra Fellows, JACK Quartet, Talea Ensemble, Heavy Air, The Living Earth Show, NOW Ensemble, Kamratōn Ensemble, and has participated in Northwestern University's New Music Conference, Núcleo Música Nova, the UNK New Music Festival, and the Earle Brown Music Foundation's International Summer Academy. Upcoming projects include performances with Lex Leto x Christine Burke Ensemble, as well as new works for Duo Axis and for Gabi Vanek & Daniel Schreiner.
Death Bag
Death Bag is new music doom, blackened composition sludge, harsh noise-table jazz, death improv ambient, electroacoustic pastoral menace- basement electronics meets conservatory bassoon for highminded lowlifes.