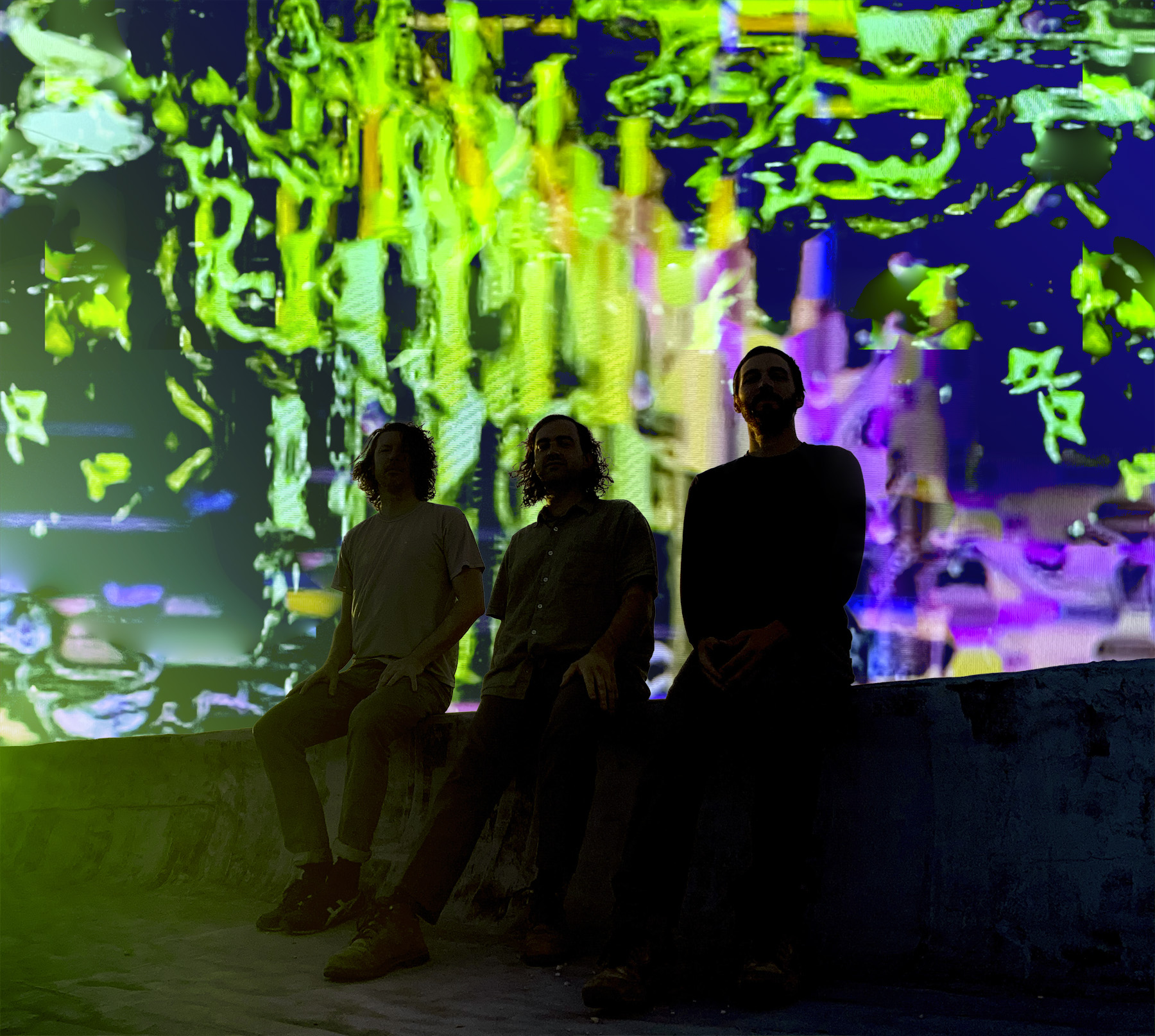 Feed Me Weird Things presents:
Bitchin Bajas (Drag City)


with special guest Jon Mueller

Bitchin Bajas

Jon Mueller

Thursday October 13th 9pm

Trumpet Blossom Cafe $15 / $10 (students w/ ID)
Bitchin Bajas
Bitchin Bajasare a musical trio from Chicago playing meditative and textured music
with hypnotic and rhythmic qualities combining electronic and acoustic instruments.
Their new record Bajascillatorsis out 9/2 on Drag City, Inc.
      And suddenly! With a tactile clunk, Bajascillators bubbles to the surface.
"Amorpha", a side-long shower of synthetic bells and bass, as patterns interlock
and repeat and the beat within the bar lines shifts constantly, forms a new,
latest miniature of infinity. You flip it, and "Geomancy" resets you, starting anew,
with heavy drift and drone leading into a space of shorter broken lines and
middle-eastern micro-tonalities, that roll back into ether again — new spaces, but
mysteriously consonant with the vibe. And that's how it goes — side by side,
Bajascillatorsrolls four unique numbers that act on their own AND as extensions
of each other, phases in perfect flow. Each time, as the needle cradles into
the playout groove, you the listener are becalmed, in stasis, forever changed.
Until you flip the side — and forever changes again…
      The Bajas is back.
      Bajascillatorsarrives almost five years since their last official full-length, 2017's
Bajas Fresh. In the eight years prior, from 2010 to Fresh, Bitchin Bajas issued seven
albums, plus cassettes, EPs, singles...wave after wave of analogue synth tones
and zones extending into a stratospheric arc. Each release its own headspace,
shape and timbre, each one sliding naturally into their implacable, eternal gene pool.
Following the flow, always, the Bajas went ever-deeper-and-higher on these records,
whether making soundtracks or collaborating with Natural Information Societyor with
Bonnie 'Prince' Billy, using only fortune cookie fortunes as a libretto. Plus, engagement
with a steady stream of shows and tours around the world; live re-airings and
expansions of the space captured in their records as they continued to grow and flow
— all the way through, really, to the present moment. Plus, there have been releases
since 2017 — a split 12", a 7" single, digital long-form edition track release and two
"Cuts"cassettes, plus the all-covers cassette release Switched On Ra. But the
overall number of releases, plus the five years between long players, implies a
potential distance between phases, a new line in the sand. The sound of Bajascillators
bear this out. How couldn't it? Compared to 2017, this is a different world — and,
as has everlutionary been true, in case of new world, new Bajas!
      Bajascillators, then, necessarily reflects the experiences — the changed and the
changing — in the life and times of Bitchin Bajas these last five years. Like all the new
gear, for instance! Everything from keys to mic pres, and many other machines to make
their home setup an increasingly real thing. These bits and pieces came in and needed
time to grow into the setup organically. That was time. Then add in the changing
circumstances as they jammed from week to week, hearing things differently all the time.
Different energies manifested from the variety of new possibilities to explore — all of
that led to a massive buildup of material. Then reviewing everything they had, to find
paths into the new record. More time! And yet, after all that, the unprecedented lightness
of the space in Bajascillatorsbelies the long gestation period, drawing and juxtaposing
from all the moments that needed to be, and mixing them as one with immaculate
balance.
      Mastered directly from half-inch analogue tape, Bajascillatorsfloats transparently
from the speakers, its expansive grooves gathering resonance and building momentum
over the four sides, from genesis to reconclusion, cascading ecstatically. The elastic
magic of time at its brightest! As the world keeps turning, so too do Bitchin Bajas, in the
same unknowable way. You can't explain it — just keep turning.
Jon Mueller
Jon Mueller's The Future is Unlimited, Always is an examination of time, meditation and loss. In this piece, released in 2022 on the Virtues label as a CD/book, the Wisconsin-based percussionist's usual bombast of repetitive rhythms and textures are replaced with fluid, calm tones, overlaid with otherworldly wails. In live performances of the piece, Mueller employs a variety of gongs, percussion and electronics to create an atmosphere equally as easy to get lost in as it is to be propelled by.
"Mueller's music is usually completed by the overtones and feedback that arise from the interaction between his playing and the space where it occurs, but for this recording he has drawn those elements into the foreground. Long vocal and metallic tones stretch over subliminally rumbling drums, directing the listener's attention up and out." – Bill Meyer, The Wire
"The Future is Unlimited, Always captures Mueller at his most spacious: layers of frequencies and tones that are as engaging as they are mysterious, and capturing more than just audio, but a deeper sense of existence." – Creaig Dunton, Brainwashed
Mueller's aim has long been to move drums, percussion and rhythm from its anticipated backbeat to a central musical focus, something more intuitive and natural than usually imagined. Audiences throughout the United States, Canada, Europe, Japan, and the United Kingdom have experienced this idiosyncratic point of view as, paradoxically, both 'cathartic' and 'meditative'. Notable solo performances have taken place at the Guggenheim Museum, New Museum, Issue Project Room, Musée des Beaux-Arts de Montréal, Alverno Presents, SXSW, Big Ears Festival, Hopscotch Fest and Witching Hour Festival.
Outside of his solo work, Mueller has performed and recorded with Mind Over Mirrors, was a founding member of the bands Volcano Choir, Collections of Colonies of Bees and Pele, and has worked in depth with artists Aaron Turner, Faith Coloccia, Dawn Springer, Chris Hefner, Jason Kahn, Asmus Tietchens, Z'EV, Andrew McKenzie, Rhys Chatham, Jarboe, James Plotkin, Duane Pitre, Jonathan Kane, and Raymond Dijkstra.
His solo work has been released by Table of the Elements, Type Recordings, Important Records, Taiga Records, SIGE Records, American Dreams, and others.
Feed Me Weird Things shows would not be possible without the continued support of Record Collector, Trumpet Blossom Cafe, and the Englert Theater.
"Impossible music for impossible people."