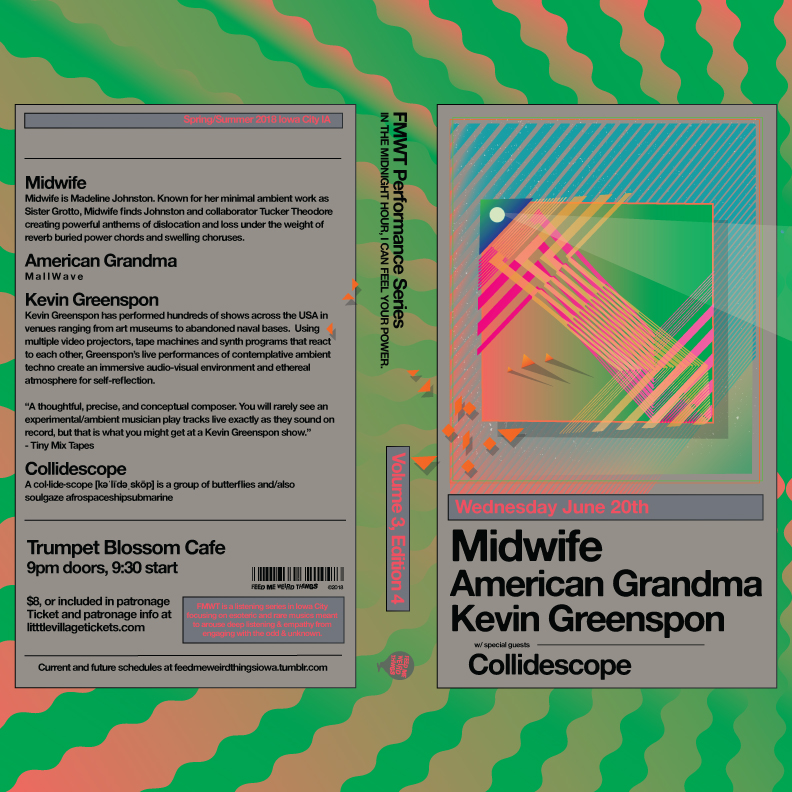 FMWT Vol. 3, Edition #4: Midwife, American Grandma, Kevin Greenspon w/ special guest Collidescope
Midwife - Midwife is Madeline Johnston. Known for her minimal ambient work as Sister Grotto, Midwife finds Johnston and collaborator Tucker Theodore creating powerful anthems of dislocation and loss under the weight of reverb buried power chords and swelling choruses.
American Grandma - M a l l W a v e
Kevin Greenspon - Kevin Greenspon has performed hundreds of shows across the USA in venues ranging from art museums to abandoned naval bases. Using multiple video projectors, tape machines and synth programs that react to each other, Greenspon's live performances of contemplative ambient techno create an immersive audio-visual environment and ethereal atmosphere for self-reflection.
"A thoughtful, precise, and conceptual composer. You will rarely see an experimental/ambient musician play tracks live exactly as they sound on record, but that is what you might get at a Kevin Greenspon show." - Tiny Mix Tapes
Collidescope - A col·lide·scope [kəˈlīdəˌskōp] is a group of butterflies and/also soulgaze afrospaceshipsubmarine