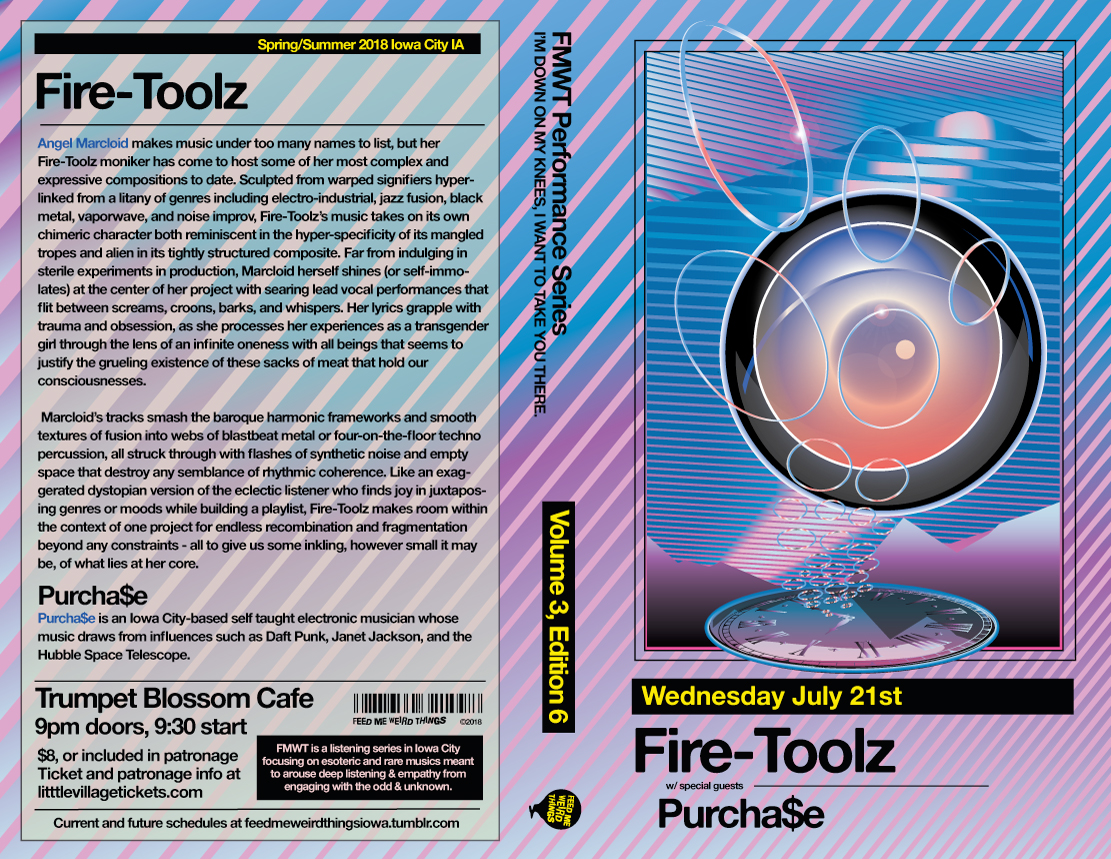 FMWT Vol. 3, Edition #6: Fire-Toolz w/ special guest Purcha$e
Fire-Toolz
Bio:
Angel Marcloid makes music under too many names to list, but her Fire-Toolz moniker has come to host some of her most complex and expressive compositions to date. Sculpted from warped signifiers hyperlinked from a litany of genres including electro-industrial, jazz fusion, black metal, vaporwave, and noise improv, Fire-Toolz's music takes on its own chimeric character both reminiscent in the hyper-specificity of its mangled tropes and alien in its tightly structured composite. Far from indulging in sterile experiments in production, Marcloid herself shines (or self-immolates) at the center of her project with searing lead vocal performances that flit between screams, croons, barks, and whispers. Her lyrics grapple with trauma and obsession, as she processes her experiences as a transgender girl through the lens of an infinite oneness with all beings that seems to justify the grueling existence of these sacks of meat that hold our consciousnesses. Interbeing, her third full-length album as Fire-Toolz, follows 2017's Drip Mental (Hausu Mountain) and 2016's Even The Files Won't Touch You (Depravity Label). The album represents a shift away from the axis of grab-bag sample recontextualization toward arrangements brimming with live instrumentation and original, performance-based composition. Marcloid's tracks smash the baroque harmonic frameworks and smooth textures of fusion into webs of blastbeat metal or four-on-the-floor techno percussion, all struck through with flashes of synthetic noise and empty space that destroy any semblance of rhythmic coherence. Every style that Interbeing cycles through in its time-dilating 40 minute duration finds its counterpoint a few moments away: stomping dancefloor-ready grids crumble with the introduction of billowing saxophone lines; passages of gorgeous ambient drift segue into garbled and glitched nonsense; jackhammer drum programming colludes with chintzy preset video game tones. Like an exaggerated dystopian version of the eclectic listener who finds joy in juxtaposing genres or moods while building a playlist, Fire-Toolz makes room within the context of one project for endless recombination and fragmentation beyond any constraints - all to give us some inkling, however small it may be, of what lies at her core.
-Maxwell Allison (Mukqs, Hausu Mountain, Good Willsmith)
Purcha$e
Purcha$e is an Iowa City-based self taught electronic musician whose music draws from influences such as Daft Punk, Janet Jackson, and the Hubble Space Telescope.