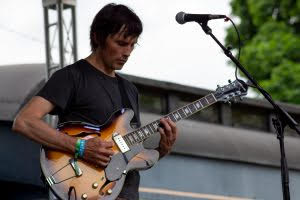 FMWT Vol. 3, Edition #11: Bill MacKay with special guest Vero Rose Smith
Bill MacKay
Bill MacKay is a Chicago based guitarist-composer-improviser. He has energized experimental folk, rock, and avant-garde scenes with his radiant songs, and creative and unpredictable approach to the guitar.
Bill MacKay's blissful harmonic control and just-outside-the-box guitar mastery are one with his compelling songwriting.
His creative voyage and imaginative influences are fully displayed on his Drag City debut, Esker, and his live performances are unmatched.
MacKay cut his teeth in various bands and projects spanning genres across the U.S., and has created an extensive body of original work, while energizing the folk, avant-garde and experimental diaspora.
'Esker is the newest solo effort from MacKay, a rich and easygoing reminder that the American guitar tradition is a vast and detailed one.'
Lars Gotrich ⎮ NPR (National Public Radio)
'….shimmering summer optimism and textural complexity all MacKay's own.'
Andrew Male ⎮ MOJO [on MacKay's debut]
'.... a lovely new track called "Aster" ..,generating more beauty in about 90 seconds than most songs manage in twice that time...'
Chris Deville ⎮ Stereogum [on MacKay's Drag City debut Esker]
'there is a warm and engaging hook in every [song],…. a shadowy enigma within Esker that verges on the blissful…..'
Barnaby Smith ⎮ The Quietus
Vero Rose Smith
Vero Rose Smith is an artist, curator, an educator based in Iowa City, Iowa. Her musical work centers on collective memory and the intersection of culture and environment. She is also fascinated by the role of visual imagery in scientific literacy, and the potential of tactile data. In performance, she seeks to assemble impromptu ensembles and improvised compositions collaboratively in real time.
Vol.3, 11th edition:
Bill MacKay
w/ special guest: Vero Rose Smith
Thursday, September 27th 9pm
Trumpet Blossom Cafe
$8 or open to patrons