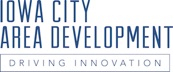 Iowa City Area Development Group Annual Meeting
Thu, Oct 11, 2018 from 7:30am - 9am
Community. Collaboration. Connection. This is how we're disrupting the world of Economic Development.
Join the Iowa City Area Development Group on Thursday, October 11th for our Annual Meeting at Big Grove Brewery + Taproom in Iowa City. We'll be taking a look back at highlights from 2018 and how we're positioning ourselves and the community for the future. A delicious breakfast buffet will be served to all attendees.
In addition to highights from ICAD, guests will hear from Nick Scappaticci of Tellart. Tellart studies technology trends and partner with futurists, scientists and political experts to describe future worlds and identify likely roadmaps for brands and governments. Their interactive prototypes and high-fidelity theatrical scenarios enable people to explore the future implications of decisions they make today. As Chief Executive Officer, Nick leads Tellart in high-level operational and strategic decisions, while still being involved in details of project development and execution. He is responsible for leading a staff of strategists, designers and technologists, and for creating a cohesive cultural environment for Tellart that enables project and career success.
All are welcome to attend!
If you would prefer to purchase a ticket without a transacation fee, you may email accounting@icadgroup.com and we will send you an invoice.