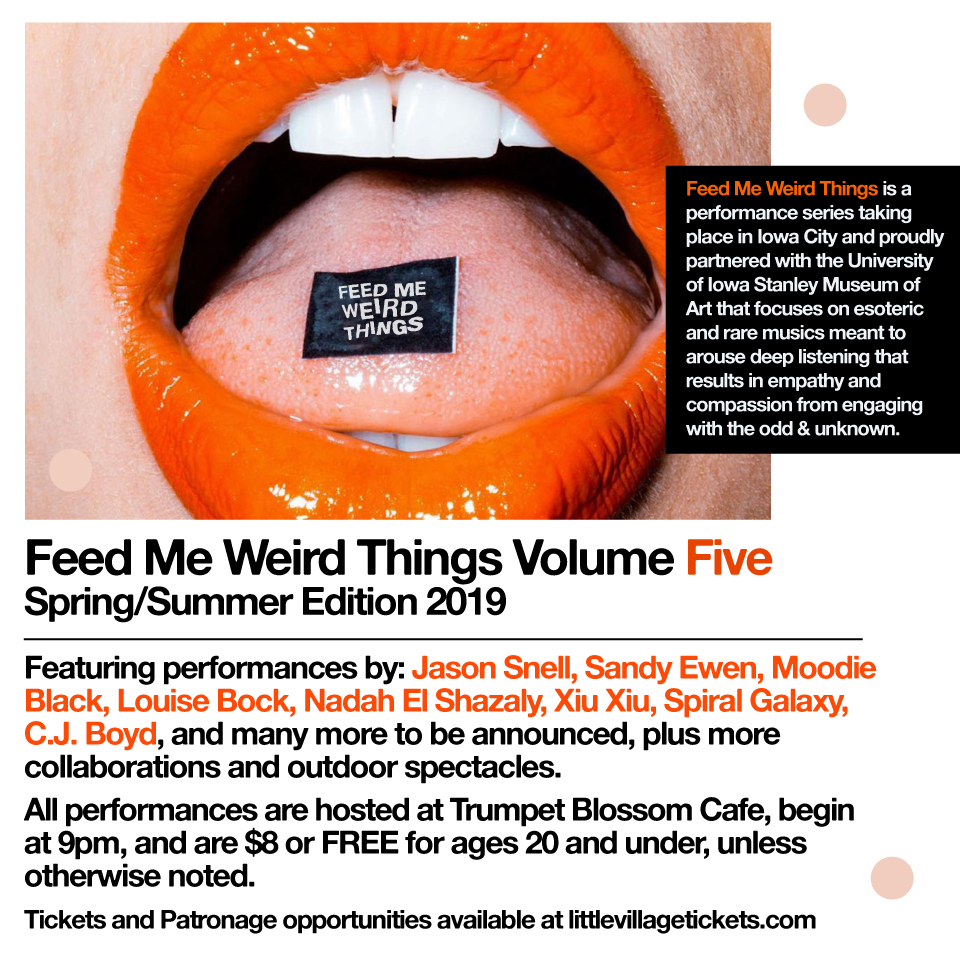 Feed Me Weird Things Season 5 Patronage
Patron of The Weird
more info
As a patron, you'll have a subscription for the season. You'll be on the guestlist for each and every show every time. There's myriad reasons for doing this, but here's a few: art is the result of labor and therefor artists deserve to be paid for their work. They deserve to know that there is a set amount promised for them, as well as a potential for greater financial gains should the event be well attended, without the fear that a competing event, weather, or other forces outside their control will result in financial penalties to their bottom line. Local artists too deserve to be paid and know what they'll be paid, upfront. Audiences willing to step outside their comfort zone and engage in new, rare, 'out' music deserve assurance for their participation. Which is why for this year's season I'm making the door fee $8 for all shows unless otherwise noted. This hopefully takes some of the guesswork out of what to expect when you come to a FMWT show, and make it more accessible for those who have limited resources to engage with our rich music culture in Iowa City. As a patron, you'll making a direct impact in maintaining this positive growth for our community. Each and every patronage has a large and direct impact in bringing new, unheard, quality art to our home at an equitable price for our neighbors. And, if you decide to go the patronage route and have ideas about how we can improve our reach and scope at Feed Me Weird Things, or you'd like to hear ideas I've got for the direction, let's get in touch.
Weird Family Patronage
more info
The Weird Family Patron: Basically the Patron of the Weird times two. Includes the purchaser and partner / lover / mother / brother / daughter / husband / wife / school chum / awkward tinder hook up / etc. You have a plus one for the rest of the year. It doesn't need to be the same person, they don't even need to be there with you, just give there name when you get at the door and their in. Two patronages, for the price of one and two-thirds patronages.