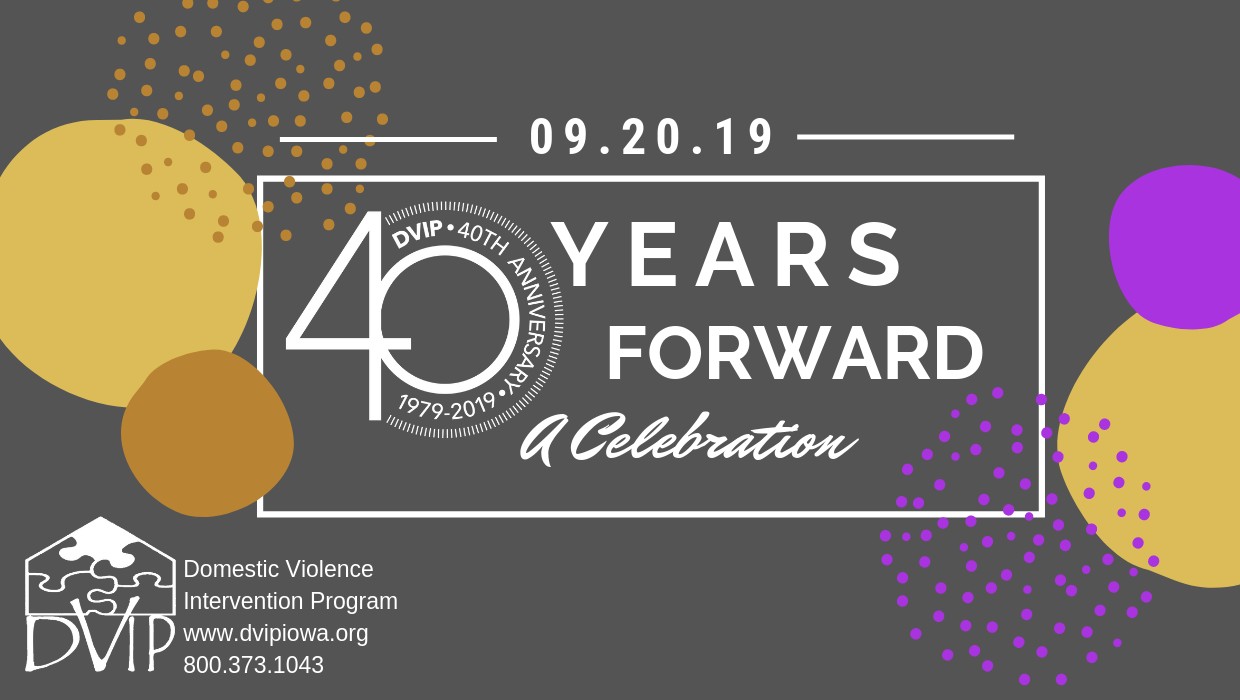 Domestic Violence Intervention Program
Forty Years Forward Anniversary Celebration
Fri, Sep 20, 2019 at 7:30pm
Join the Domestic Violence Intervention Program for an amazing night of laughter, music, and history as we celebrate 40 years of providing safety and dignity to victims of intimate partner violence.
Our 40th-anniversary celebration will be on September 20th, 2019 from 7:30 - 9:30 PM at the Oakdale Ballroom in the Marriott in Coralville, IA. Deb Talan of "The Weepies" will be presenting, The jazz band "Big Fun" will be performing, and other special guests will be sharing their personal history with DVIP since our beginning in 1979.
Hot and cold hor d' oeuvres will be served and cash bar available. Join us for Silent Auction, dancing, and fun! Dress in your finest and celebrate the historic and important work we have been doing for 40 years and hear about our vision for the future!
All proceeds will go to supporting victim/survivors for years to come!
Sliding Scale, Active Volunteer, and Student Tickets available upon request. Email altamp@dvipiowa.org to learn more!
The Domestic Violence Intervention Program (DVIP) serves 8 counties in Southeastern Iowa. Johnson, Iowa, Cedar, Washington, Henry, Van Buren, Des Moines, and Lee counties. DVIP served over 1900 men, women, and children throughout our service region in the past year by offering comprehensive crisis services to victim/survivors of intimate partner violence, dating violence, stalking, human trafficking, and domestic violence. These free and confidential services include a 24-hour toll-free crisis line, 24-hour emergency shelter, medical and legal advocacy, housing assistance, youth and family support groups, and community education opportunities. All services are free and confidential to anyone in need and funded by supporters just like you!
FAQ:
General Tickets vs. Bistro Tables - General tickets will have limited seating to first come first serve. Bistro Tables seat up to 5 and are reserved for you and yours. The Bistro Table is recommended if you don't plan on dancing the night away!
Eeek, we have other commitments! Can we come late? - Yes! The door is open to coming and going all night long but please note that the official program starts at 7:30 with a Keynote Address by Deb Talan of The Weepies.
What about the kids? They LOVE the Souper Bowl! - You can bring your kiddos but this is a fancy party and some of the stories shared may not be suitable for all ages... Wanna chat about it? Give me a call and we can see if your kid would have fun.
What should I wear? - You only turn 40 once so we are dressing in our finest! Cocktail Casual to Bussiness Formal. Heck, wear a ballgown, glitter, or those velvet pants hiding in your closet! Tonight is a night to celebrate how far we have come!
Wait? Where is this? Is there Parking? - The celebration will be in the Oakdale Ballroom at the Coralville Marriott. Yes! there is lots of parking near the conference center entrance but you can look for the signs and balloons and fancily dressed up people! (We will help you find us! Promise!)